Testimonials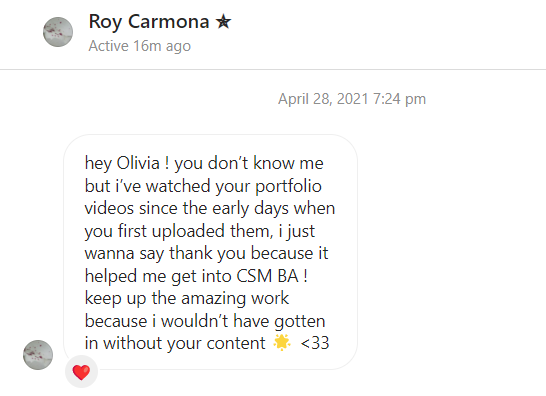 I found Olivia via YouTube and always found her opinions and approach to design very interesting.
After finding myself creatively blocked I decided to join her 1 on 1 mentorship sessions and I've really been able to build a collection and portfolio that I'm actually very proud of through her honest feedback, constructive criticism and drive to push me a little further.
Now I have a much clearer idea on how to present my ideas, keep it interesting, honour the research and build and interesting story that speaks for itself.
I definitely recommend this sessions to anyone feeling blocked or whose design school background wasn't widely focused on creativity and experimentation, and is willing to step it up!
Serg M, ESD Madrid
Hey Olivia! You don't know me but I've watched your portfolio videos since the early days when you first uploaded them, I just wanna say thank you because it helped me get into CSM BA!
Keep up the amazing work because I wouldn't have gotten in without your content <3
Roy Carmona, BA Fashion CSM, British Fashion Council scholar
Amazing fashion design mentorship courses, Olivia always can give precious guidance covering all aspects of the project, and throughout the design journey, (analysing the storytelling, the draping experiment, the design drawing,  garment making...).
As an incredibly talented person, she can not only provide any support of technical but also can give balance guidance between respect for personal creativity and helping one's focus on development, and discovering the story behind each project.
Being a student with a costume bachelor's degree, I've taken fashion lessons from an Italian school and realized that it's not very easy to find someone who can be both helpful and not interrupt too much. Thanks to Olivia's mentorship, I completed the project I love, started exploring the design method, and saved my life from the "stuck" during the design process.
Yuchu Shen, Knitwear & Fabric design at Nuova Academia di Belle Arti di Milano
Samples came out perfect. Couldn't have done it without you.
Joe Granger, co-founder at UNKNOWN LDN
Olivia is one of the best pattern cutting teachers and one of the most inspiring person I have met.
I learnt a lot about pants/skirts patterns skills from her even though having had only 1 month of teaching till now. She offers one of the best fashion (several skills for design development process) and pattern cutting classes I attended in my fashion studies education.
Thank you for sharing your knowledge selflessly and for your unbiased honesty.
João Machado, BA Fashion CSM - FDM; MA Fashion CSM - Menswear
I have known Olivia for a number of years, both personal and professional. She is a very talented and conscientious creative pattern cutter.
Her wide range of skills and experience makes her able to adapt to any given style, creating and explaining patterns that are not only beautifully crafted but technically well constructed and completely effective.
Thank you for teaching me so much!
Sophia Orlandi, BA Fashion CSM - Womenswear
I'm lucky to have worked with Olivia Suguri, a fashion designer and pattern cutter who has worked with DATEAGLE ART as a consultant for a specific project.
Olivia has shown a strong ability in researching, developing an identity, market and trend research, and going through all the technical aspects involved in the realisation of this project.
I'm amazed by Olivia's ability to incorporate her fashion knowledge into an artistic-based context, a skill she uses to full effect when presenting proposals. She had an important role in branding, packaging, and product development - and kept a great deal of interest and communication in every aspect concerning the company.
I recommend Olivia to others looking for consulting aspects not only within the fashion industry, but also within any creative concept.
Vanessa Murrell, Curator, Writer and Artivist at DATEAGLE ART