Yes, you have a shot at Bunka Fashion College. But is it worth it?
or How to develop your creative side on your own | further education at BFC | CSM vs Bunka
*This is the last part of my last guide on famous Fashion schools, based on my first-hand experience as a student in the 2-year Garment Creation course, at Bunka Fashion College.
I'm still writing under the perspective of a mature student since I was around 21-22 years old when I got in, so at least 3 years older than most of the Japanese students, who were just out of high school.
And also as a westerner, since the cultural shock is real (p.s.: I'm half-Japanese btw, if you've seen pictures of me on IG or this post, but I grew up in Brazil and my great-grandparents immigrated over 100 years ago, so my family's very much Brazilian, just Asian-looking).
If you really wanna study at Bunka, start from part 1, and visit BFC's website for updated information on tuition fees, term dates and application requirements.
I stopped on my previous post saying what a great Technical foundation Bunka Fashion College is.
If you don't wanna go back and read the whole thing, I'll explain:
you'll get great technical skills - as in Pattern cutting, sewing, embroidery, dying etc;
great technical knowledge - as in Textile Technology, Production Management, Quality Control etc;
but that alone won't make you a designer, so you have to consider it's just the foundation (a very solid one, nonetheless).
And how could it have produced Yohji Yamamoto and Junya Watanabe? Well, it didn't.
According to Junya, the only thing he learned at Bunka was how to thread a sewing machine, all the rest he learned working at Comme des Garçons, so maybe the secret sauce is being affiliated to Rei Kawakubo: Yohji and her were partners (romantic and professional) back in the 70s; Junya started as her protegé, the first one to have his own line under the CdG brand.
But you don't need a degree from Bunka to get a job at Comme des Garçons.
Just like graduating from CSM doesn't guarantee a job at Louis Vuitton or McQueen - and that's great news.
Ain't no magic diploma for nobody, and everyone can develop creative superpowers.
The CSM Fashion secret sauce
Here goes:
RESEARCH + DESIGN DEVELOPMENT.
Boom, there it is.
If it was ever a secret, it's not anymore. Use indiscriminately.
Before you decide to call anything a design, first you gotta do a lot of R&D because
Good research will make sure you're not just pulling out random ideas out of your fatass;
Design development (aka experimentation, playing around, trial & error, making a gazillion of sketches without overthinking if it's good or not, for entire looks and also for every single detail you find interesting…) will make sure you're not simply copying the research.
You can even start with copying, but copy the good stuff: look up iconic pieces from the heyday of Haute Couture, figure out the subtle details of colour and proportion that makes everyone drool at every single thing on a Prada runway show, try to recreate even a tiny detail from Alexander McQueen's over-the-top runway moments.
You probably already have a Pinterest board overflowing with great references. Print out some of them and start small.
Make a contact sheet and draw over the same picture many times: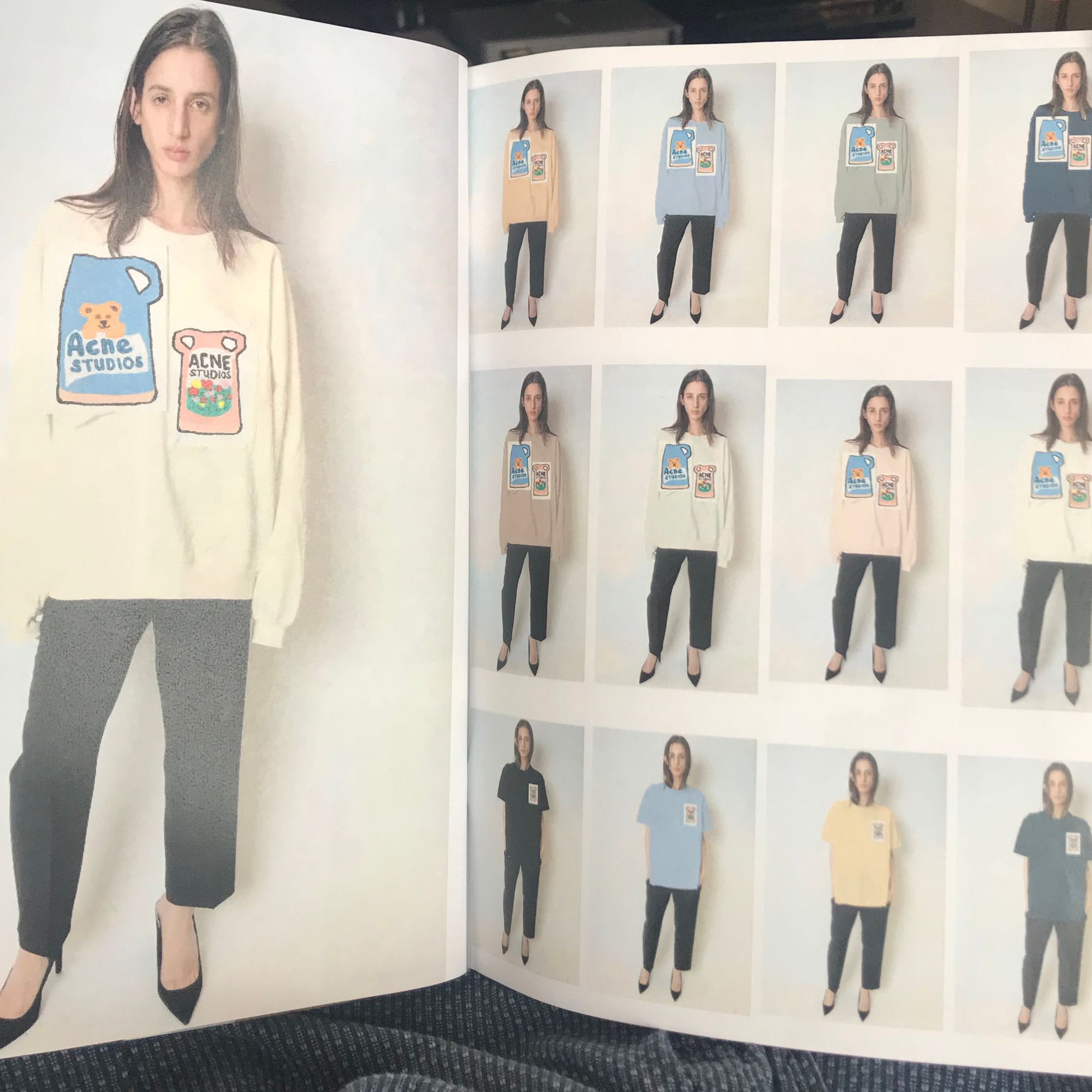 Try to identify the references behind every design:
Kimono, yes. What else?
A quick look into Alexander McQueen's work will reveal he was inspired by kimonos, but what's different about this one? (hint: Zen monks)
Start with the iconic pieces that've been written about extensively, and once you know the inspirations behind them, dig deeper.
If your dream's to work at the cool Fashion brands with die-hard fans that won't pay less than 3 digits even for a simple t-shirt, don't use the Fast Fashion method of getting a runway picture then watering down the design: really investigate what makes your favourite designer's work exceptional, then explore it further on your own research.
(collage from my Creative Cutting project, original picture from a book on McQueen's work…don't know which one)
Zoom into a detail you like and draw variations, or make work drawings to think of ways to cut and make it yourself.
These are examples from my final collection on Graduate Diploma.
Can you see I didn't make a whole garment?
I first wanted to study how to make the shoulders for each design, otherwise I wouldn't know what to do once it was time to cut and make my final lineup.
Now you probably have a jumble of unfinished work. Good.
You're on your way to creating a sketchbook, something many tutors are fascinated with, because they can see an unfiltered version of what you're about.
Be your own famous Fashion school tutor and be critical about your own work: what sort of stuff are you drawn to? How do you respond to your research?
I always thought I was into clean and chic - because that's what I saw in Vogue magazine back in the day - but most of the pictures I'd been collecting were colourful and kinda kitsch.
And I tortured myself into drawing, when it'd be much more efficient and enjoyable to copy a Comme des Garçons skirt I bought at a vintage store, to learn how much frill separates Designer Fashion from H&M.
Becoming more creative is a side project that you'll have to carry on independently and with no deadline, so you do need a little discipline and a lot of support.
Further education at Bunka
After finishing the 2-year Garment Creation course, there's the option to do a third year in one of 3 pathways: Haute Couture, Fashion Design (?) and Fashion Creation Technique (???).
In lamest terms: MORE TECHNIQUE!
Do you even need it?
There're many other programs in BFC, and from what I've seen recently, your best bet'd be to forget about the Garment Creation course, in the Fashion Creation Department, and apply to the 4-year Creative Design Advanced Diploma, in the Fashion Technology Department.
I don't know if they've recently changed the Ensligh name of the latter, but I remember this course had something to do with Apparel, so there's a chance it'll be even more technical. The students do get to design small collections, instead of a single piece or a whole look for each module, which is a huge step-up.
Depending on your level of Japanese, and how much you actually wanna stay under the Bunka system, you may be interested in checking the other schools in the Bunka Institute: Bunka University (nothing I can say about this one, and also a completely different admission process) and Bunka Fashion Graduate University - BFGU, offering graduate courses.
One of my friends did a Fashion Business Management course at BFGU, and later got an office job at a big apparel company - nothing creative, super uptight Japanese corporate, just like the name of the course'd predict.
'So it's not worth it?'
That's for you to decide.
Check with yourself: what do you really want from this experience?
Is it living in Tokyo? Getting a job in a crazy, avant-garde Japanese brand? Becoming Rei Kawakubo's newest pupil? Becoming yourself the new Rei Kawakubo or Yohji Yamamoto?
There's real value in being in Japan and having the chance to be immersed in the culture, but that alone won't awaken the genius designer in you, no matter how many times you visit the Comme des Garçons flagship store in Aoyama.
(Just like you won't become a saint simply by going to the church every Sunday. You know what I mean if you were also raised Catholic.)
Before you trouble yourself thinking whether you have a shot at Bunka, my suggestion is: start by taking Japanese lessons.
Speaking fluent Japanese will allow you to dig in much deeper into:
job and networking opportunities;
articles or interviews of famous designers that haven't been published abroad and that may offer better insights;
special showrooms or associations for young designers, apprenticeships with traditional craftsmen…
Choosing the "right" school is just the beginning, there's a lot more you have to look up anyway in whatever language when you've got big ambitions for your career.
Or maybe you just dream of living in Japan. Also good.
Now you only need to study Japanese and forget about the stressful Fashion rat race stuff.